As an iphone user, I've subscribed to a variety of services for movies, books, music, and so on. However, there are times when I am unable to locate a specific movie or song on any of these services.
As a result, I either download it from the internet or borrow it from a friend. The format isn't always supported by iOS or iPadOS. 
WALTR PRO WINDOW is one such software that simplified everything for me, and it gives us a lot of flexibility in getting everything done, when it comes to converting any file into, iphone ,Mac, Windows, Apple's TV+ app and so on.
What is it about this app that makes me love it so much?. I'll tell you more about it.
What is waltr pro window ?
WALTR PRO is a simple, elegant and great app from Softorino that quickly converts video and audio files into Apple-compatible formats. And, yeah sure, you will receive the highest quality output file.
There are no buttons. There are no unnecessary settings to be involved about. It is extremely easy to use, quick, flexible and customisable at the time of transfer.
Simply drag and drop media files to convert them locally and save them to your internal or external drive as readable formats that Apple recognizes.
What does Waltr Pro windows do?
WALTR PRO WINDOWS  provides the most convenient method of transferring files. So, if you need to get any kind of file from laptop to iPhone or iPad!, forget about compatibility. This is what it does:
1.Easy drag and dropping
It's as simple as connecting your device via Usb port and dragging and dropping a file into WALTR PRO. 
WALTR PRO can handle any type of conversion, whether it's an audio file, a video file, or something completely different.
You can also dump the file into a suitable target app on your device or drag a music file that will be instantly uploaded to iCloud and ready to play.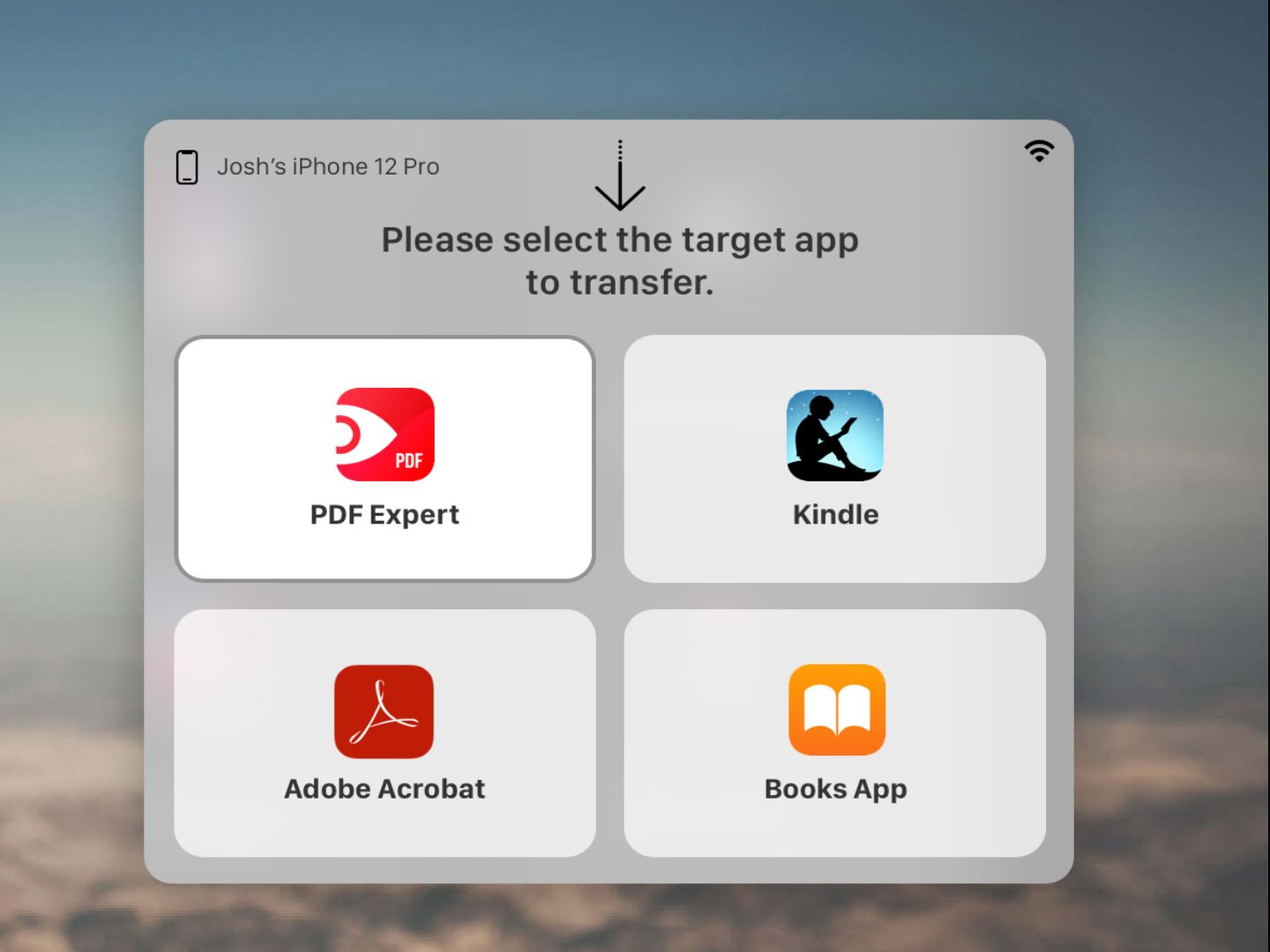 2.Easily transfer any file format
WALTR PRO detects the file, converts it to the correct format, and sends it to your desired location.
With Waltr pro, you can Drag and drop everything to your iOS devices without worrying for the files format.
Here are some of the supported formats 
Supported Formats
Apple Music: MP3, FLAC, APE, AAC, AIFF, WAV, WMA, OGG, OGA, WV, TTA, DFF, CUE, M4R, M4B, TAK
Apple TV: MKV, AVI, MP4, MOV, M2TS, 3GP, WMV, M4W, FLV, MTS, TS, MPG, M2V, DV, WEBM, RM, RMVB, VOB
Books: EPUB & PDF
Ringtones: M4R
Other apps: Virtually any format. It all depends on the file compatibility of target 3rd party iOS app.
Subtitles: SRT, ASS, SSA
3. Convert book files into Kindle.
With Waltr pro, It is now possible to push almost any type of content into your iPhone or iPad. So, whether you like VLC or reading books on Kindle, we've got you covered.
You can now convert book files into Kindle instead of the native iBooks.app as part of third-party iOS app support. While dropping files, hold down the ALT key and and choose 'Kindle' as the target app (*This needs Kindle.app to be installed on your device).
3. Transfer Photos from a Computer to an iPhone
You can now transfer photos into your iPhone or iPad using WALTR PRO. Drop them into the desired iOS file manager and share them to the native Photos app using the Alternative apps feature. Simply drag and drop the files while holding down the Command prompt key, then select the destination app for the transfer.
It also has a multitude of options for adding images, icons and emoji to your folder designs.
4. Edit music and video details
With WALTR PRO, you can edit the song details before they'll be transfered into device
In addition to the familiar file support in WALTR pro such as music and videos, Walt PRO now allows you to transfer data such as documents, pictures, cartoons, MS word docs, and much more.
What's the performance of Waltr pro?
WALTR PRO is a lightweight software that uses few resources. It runs smoothly on any system running macOS 10.13 or higher or Windows 7 or higher. On my Windows 10 i7 laptop, I didn't notice any lag.
As long as the system criteria is met, it will run smoothly and without lag. I've used it over WiFi, and the file transfer speed is quite fast. I successfully transferred a couple of files in various formats to my iPhone XS.
It is simple to use thanks to drag and drop file transfer. It is not necessary to manually select each and every file. Simply drag and drop all of the files to transfer them.
Is Waltr pro legit?
Yes, WALTR PRO is absolutely secure to use and does not cause any problems. The installation is quick and secure, and it works on both Windows and Mac computers.
We tested all of the features and triple-checked for viruses and malware and found none, demonstrating that WALTR PRO was designed with security and privacy in mind.
Is WALTR PRO for free?
Waltr Pro is available for free with file transfer restrictions.
WALTR PRO is set to be available with a 24-hour free trial that limits the number of files you can convert, however after the trial period expires, the feature to transfer files to third-party apps will continue to work without limitations. It will always be free.
How much does Waltr pro cost?
WALTR PRO for Mac and Windows comes with a 24-hour trial period with data transfer limitations. The full version of WALTR PRO is available as a yearly subscription for $35. Existing WALTR users who qualify can upgrade to WALTR PRO at a 50% discount directly from the Softorino app shop.
WALTR PRO PRICES

$9.95
Billed monthly

$35.04
Billed annually

$300.00
One-time payment

Walt Pro single License
Waltr Pro Single License
Includes 16 Apps. Check on the Softorino website
    Buy Now
  Buy Now 
  Buy Now
Conclusion
WALTR Pro window is a must-have tool for iPhone users with Windows PCs, as well as Mac users. It creates a seamless data transfer over WiFi with such a simple drag-and-drop interface and automatically connects with an iPhone companion app.
It supports 36 file formats and removes restrictions. You will be able to uninstall faulty iTunes.
If you're willing to spend a few dollars to get rid of iTunes, WALTR Pro is the best option to consider.
Although there is a third-party software, WALTR windows has been the most famous and preferred since its beginnings, and WALTR Pro has many new important features added in the most recent update.